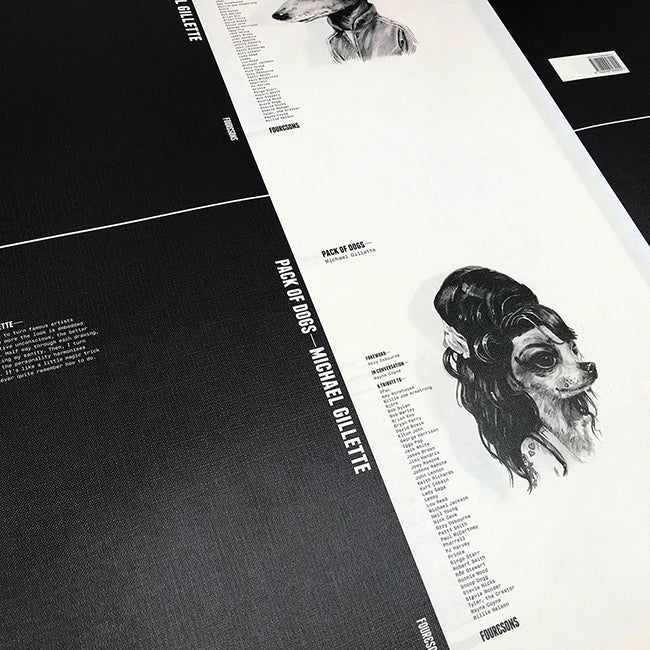 I'm so exited to release this book!

I started this project 4 years ago around the 2016 election, after I bought some boxes of old greetings cards at a Goodwill. Each contained ten identical pencil drawings of a dog. I started drawing over these in an act of vandalism/ entertainment. Initially, they were transformed into style tribes: Mods, rockers, punks, etc. Soon, they started to look like familiar stars. At this point I drew my own dogs and had my printer, San Francisco Electric Works, make editions, allowing me to continue the game.
It was totally addictive. David Bowie was the first star to appear- the low hanging fruit. I drew one a day for weeks, musicians, deities, style tribes.
Each one is a little magic trick that I'm amazed worked.

Twenty portraits in, a fantastic dog/culture magazine, Four & Sons, contacted me and featured the project. With this encouragement, I made many more portraits. In April 2018, I had a solo exhibition of 50 dog drawings at Luna Rienne Gallery, in San Francisco.
In early 2020, Marta Roca, the publisher of Four & Sons asked if I'd like to do a book of 50 celebrity dogs. I had 24 stars at this point. I figured I'd be done in a month or so.  Over the next 6 months, I finished up 26 more dogs. Along the way, I spoke with Wayne Coyne, of The Flaming Lips about the project for the book. Unbelievably, Ozzy Osbourne agreed to write the foreword, and God love him, he came through in fine style!
Drawing each portrait was a little period of calm joy for me personally. I hope that feeling is passed on to others who view the book.
The final step was for me to write captions for each portrait. I had a good time articulating how the musicians intersected with my life, sometimes literally (I bumped into David Bowie in City Lights Bookstore the first time I visited San Francisco in 1997).
The book has been designed beautifully by Marta, and printed in Barcelona, on great paper stock. I could not be happier with the final results.
Sales within the USA are available from this site. Shipments to the rest of the world can be purchased from Four & Sons.